Radio Station in Blythe, CA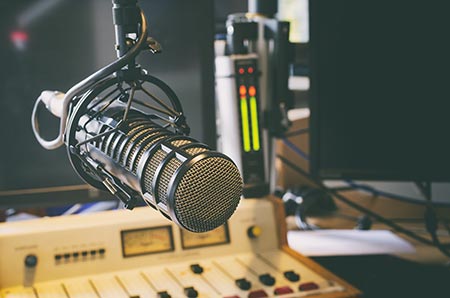 Tune in to KJMB-FM 100.3 for an enjoyable mix of chart-topping artists, local news, sports and creative segments that keep you informed about life in Blythe. Our song list includes all your adult contemporary favorites plus Top 40 hits. We play what you want to hear!
KJMB-FM, Playing All Your Favorites
KJMB-FM is the only commercial radio station in Blythe, CA. Independently owned and operated, we've been broadcasting since 1981. Our extensive experience in the radio industry allows us to create fun, relevant segments that keep you entertained and informed. We fill your day with great music, featuring a mix of adult contemporary songs. After 8pm, set your dial to us for the hottest Top 40 hits, including dance, rap and other upbeat tunes from the Top 40 lists. Listeners love our variety of music. This great selection has kept people tuning in for more than 35 years.
Affiliated with the local Chamber of Commerce, KJBM-FM is proud to be a part of the Blythe community. We are always adding new and creative segments to feature local news and sports. We feature interviews with the city manager and other locals, as well as other segments pertinent to the residents of Blythe. At the top of the hour, we provide USA Radio News and National News. When it's time to spin up the music, turn the dial to us for contemporary artists like Taylor Swift, U2 and Ed Sheeran as well as classic rock artists like Bruce Springsteen and Tom Petty. From contemporary to classic and even a little country, KJBM-FM is your top source for FM radio in Blythe, CA!
We offer an enjoyable mix of adult contemporary and Top 40 hits.
Tune in for local news and sports, as well as National News at the top of each hour.
Our segments include topics of interest related to life in Blythe.
We are proud members of the Blythe Area Chamber of Commerce.
We've been broadcasting your favorites since 1981!
Tune in Today
Discover KJBM-FM at 100.3 FM and start singing and dancing along to your favorite contemporary and Top 40 tunes.
Areas Served
We proudly broadcast to the Lower Colorado River Valley, including:
Blythe, CA
Mesa Verde, CA
Needles, CA
Vidal, CA
Winterhaven, CA
Bullhead City, AZ
Lake Havasu City, AZ
La Paz Valley, AZ
Parker, AZ
Quartzite, AZ
San Luis, AZ
Yuma, AZ
Laughlin, NV